Selection Pro Chest Press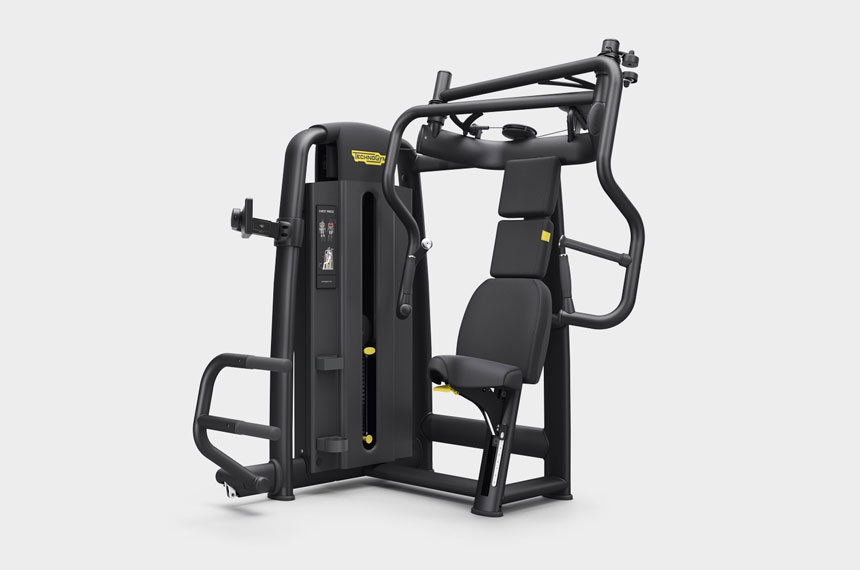 Enjoy the sensation of riding a real road bike. The biomechanics and ergonomic design offer a variety of positions to help you achieve peak performance.
Connected Strength
Born from the experience of 6 Olympic Games, 20 million everyday users in 10,000 facilities and 20 billion workouts, SELECTION PRO sets the standards in terms of biomechanics, ergonomy, design and ease of use. And thanks to the optional UNITY™ MINI, the first connected interface for strength training, it will change forever the way you train.
Features
New Optimal Grip
The new design and material provide a better grip for every hand so you can maximise contact and apply your maximum strength in total comfort during pushing and pulling movements.
Great Exercise Feeling
The arm geometry allows variable resistance to be delivered to accommodate the specific strength curve of the muscle group being trained. As a result, you'll perceive consistent resistance throughout the entire exercise.
Neutral Grips
As well as ensuring maximum safety for people with limited shoulder mobility, they also offer more training variety.
Optimal Start
Chest Press features Easy Start System that reduces your effort when beginning and ending the exercise, especially with high workloads.
Balanced Strength Improvement
The converging arc of movement provides a feeling similar to training with free weights. The independent movement arms result in a more balanced strength improvement.
UNTIY MINI
Thanks to its Strength Pilot™ advanced exercise guidance options and real time biofeedback, it provides the most effective and engaging workouts on the market. Fully connected, it automatically pushes your training data to your mywellness account so you can monitor your results over time. Available as an optional feature on all strength equipment.