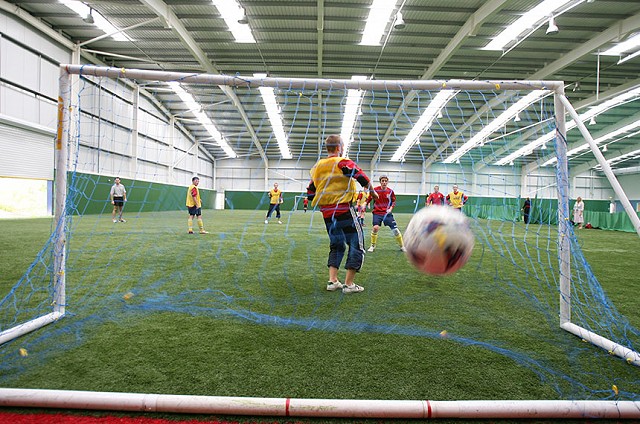 Llandarcy Academy of Sport is an elite training venue in Neath
More than just a gym...
Llandarcy is the place for health, fitness and wellbeing but that is not all we offer. From kids parties, kids holidays camps, holistic therapy to The Pavilion Llandarcy our very own brand new and exciting restaurant and sports bar.
At Llandarcy Academy Of Sport we are dedicated to providing the best for our members from fitness to food and beyond so why discover why we are more than just a gym.
Whatever your reason for wanting to get fit one thing for sure we are with you all the way!
At Llandarcy Academy of Sport we offer 55 of the latest fitness classes all housed within a state-of-the-art facility. We can also provide bespoke training programmes that will guide you through your workouts so you reach your goals.
Background
The Llandarcy Academy of Sport (LAS) is situated in the idyllic village of Llandarcy, just a few hundred meters off Junction 42 of the M4. The facility is owned by Neath Port Talbot Group and operated as a subsidiary company under the name of Llandarcy Park Limited.
The first phase of LAS was officially opened in January 2005 and comprised of the following facilities:
4 Outdoor grass pitches and one cricket square
1 Small 5 'A' side hard surface
1 Indoor 3G pitch 50m x 55m
1 Fitness gym
Café
2 Offices and 2 WRU offices and physio room
Male & female toilets upstairs
6 Lecture rooms
2 Staff rooms
Computer Suite
Annex – Coaches office and administration offices
Large physio room
Changing rooms – coaches room – large Ospreys squad changing room
Officials changing room
Analysis suit
4 changing rooms
Store room
Car park – 150 cars
The second phase was officially opened October 31st 2011 and consisted of the following facilities:
A four badminton Sports Hall with Climbing Wall and Ancillary Facilities
A sixty Meter indoor Bounding Track
Sports Science laboratory
5 'A' side outside sand based artificial pitch
Students common room
Medical room
Computer suite
Lecture rooms
Large Staff room
1 Full size 3G outdoor pitch
1 grass pitch
Male and female changing rooms and toilets downstairs
Male and female toilets upstairs
Staffing
LAS has a small staffing structure based at the site to operate all facilities and develop the commercial usage of the facility. The Staffing structure at the site consists of the following staff:
General Manager
Administrative and Membership Coordinator
Customer Services Supervisor
2 x Facility Supervisors
Full Time Instructor
Part Time Instructor
3 x Part Time Customer Services staff
Grounds Supervisor
Grounds Assistant
Café Supervisor
Full Time Café Assistant
2 x Part Time Café Assistants'
Casual Staff
LAS has significant usage by Neath Port Talbot College and hosts the majority of the colleges sporting academic courses, it is also the main training base of the Ospreys professional rugby region. A number of National Sport's Governing bodies hold their training and coach education courses at the facility. The facility is also used for a variety of sports by touring countries such as New Zealand, Australia, France plus many more
LAS is home to a variety of clubs and associations and welcomes the general public to a number of social plus health and fitness activities, such as Fitness Classes, Netball, Football, Karate, Fencing, Cricket plus much more