PureStrength Shoulder Press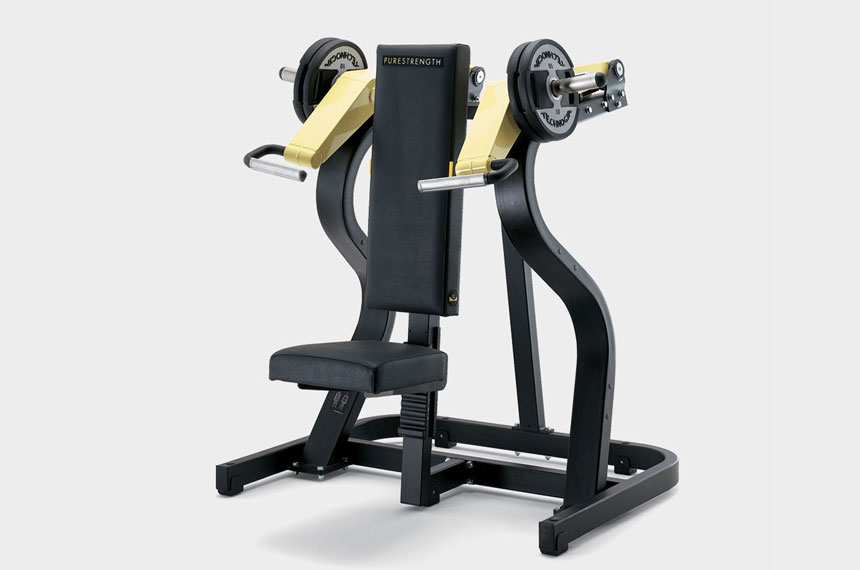 The Shoulder Press movement replicates the overhead press in the frontal plane and is ideal to build muscles on the deltoids, triceps and upper trapezius.
Equipment that makes stronger, keeps safer, lasts longer
Over three decades of extensive research in science and movement and 6 successive appointments as Official Fitness Equipment Supplier to the Olympic and Paralympic Games make Technogym the ideal choice for your elite training area, to which we bring equipment that is built for athletes to the highest standards in biomechanics, ergonomics, durability and safety to maximise sport performance.
Features
Bodyprint System
All paddings are made from special high-density foam that adapts anatomically to the shape of the body providing maximum comfort and a beneficial stabilising effect during exercise.
Pure Grip
Push and pull movements become more effective and comfortable with the new handgrip design that distributes the load more evenly. Markings show correct hand positioning and the grained texture of the surface increases grip and prevents lateral slipping. The special aluminum, copper and silicon alloy ensures maximum durability.
Best Workload Distribution
We tested a large number of users of different sizes and analysed the results to obtain the best workload distribution according to movement trajectory and the optimum torque throughout the complete range of motion. A spring counterbalance on each arm reduces the starting resistance to 500 grams (approx. 1 lb).