Excite Climb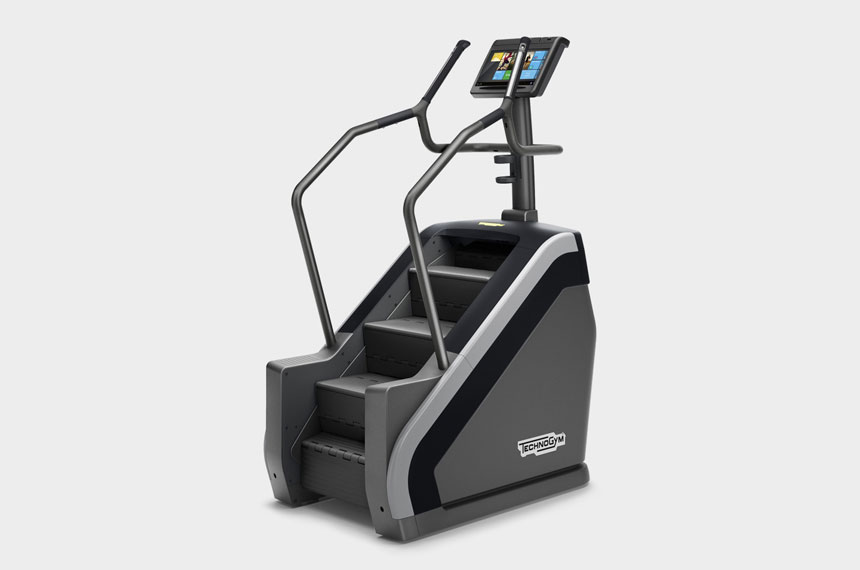 Excite® Climb will forever change the nature of stair climbing, making it easy for first-timers and challenging for advanced users. Enjoy your favorite TV channels, FM radio stations or play your music from your Apple or Android™ device via Bluetooth®. Stay connected via Wi-Fi® and Bluetooth®, monitor and store your full workout data and keep track of the progress on your mywellness® account.
Ascend beyond your limits
What makes Excite® Climb so unique is the SPLIT STEP TECHNOLOGY (patent pending). Developed by Technogym's R&D Department, this breakthrough transforms this stair climber into one of the most sought-after pieces of cardio equipment on the gym floor, thanks to its welcoming design, ease of use and effectiveness.
Features
Challenge Yourself
Excite® Climb helps users perform beyond their expectations. Boost your muscle activation, for maximum calorie burn and muscle tone, with unique exercises that utilize Technogym's proprietary innovations:
deepest step surface on the market (28 cm/11 in)
Smart Lateral Footrests
at least 3 steps always available.
Step on Easily
An innovative breakthrough in the market by Technogym, the 26.5 cm/10 in low Courtesy Step™ (patent pending) automatically repositions itself at the lowest height at the end of the workout to simplify getting on.
Step Aside Comfortably
Another exclusive innovation by Technogym, the Smart Lateral Footrests provide a convenient foothold for stepping aside to take a break or to interact with the console.
Train with Confidence
Traditional stair climbers scare off less confident members. Excite® Climb's lower profile makes it less intimidating and more inviting to all users.
Forget Toe Pinching
The Technogym proprietary ToeSmart Design™ enables use of the entire step surface without fear of pinching your toes between steps, regardless of shoe size.