Refer a friend and win a year's free membership
If you are a current member simply refer a friend and receive a month's membership free plus entry into our prize draw to win a year's free membership.
Download the Refer a Friend form »
Our latest 'Refer A Friend' Winner Announced!
Llandarcy Academy of Sport are happy to announce that Lisa Ball has received One Years Free Membership thanks to our Refer A Friend Prize Draw. Lisa is pictured below receiving her prize with Wyn Evans, General Manager, Llandarcy Academy of Sport (R).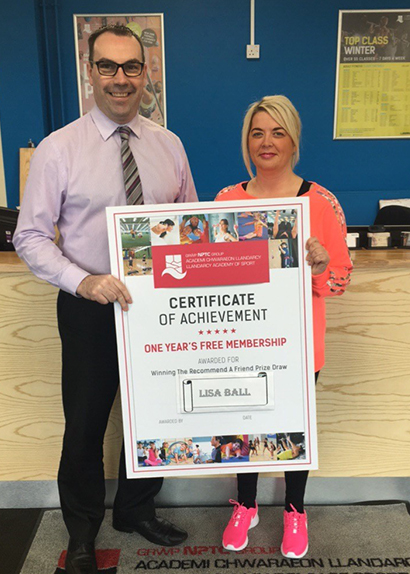 September's 'Member of the Month' Announced!

Emma Clement!
Emma was 24 stone 11.5lbs and is now 12 stone 13.5lbs.
She does try to train 2/3 times a week, and tries to include cardio, weights and core work into each week.
Every year she sets herself a goal not just a weight loss goal but a fitness goal.
WELL DONE EMMA
Monthly Challenge Winner Announced!
Winner of our monthly challenge was Bradley Crooks, 10m ,20m, 30m, 40m, 50m and 60m sprint shuttle challenger, Bradley completed the challenge in 1 minute and 22 seconds Bradley also won a meal voucher in the pavilion
September's Challenge...
60 second press up challenge – How many can you do in 60 seconds? To enter please ask a member of staff