Refer a friend and win a year's free membership
If you are a current member simply refer a friend and receive a month's membership free plus entry into our prize draw to win a year's free membership.
Download the Refer a Friend form »
Our latest 'Refer A Friend' Winner Announced!
Llandarcy Academy of Sport are happy to announce that Lisa Ball has received One Years Free Membership thanks to our Refer A Friend Prize Draw. Lisa is pictured below receiving her prize with Wyn Evans, Managing Director, Llandarcy Academy of Sport (R).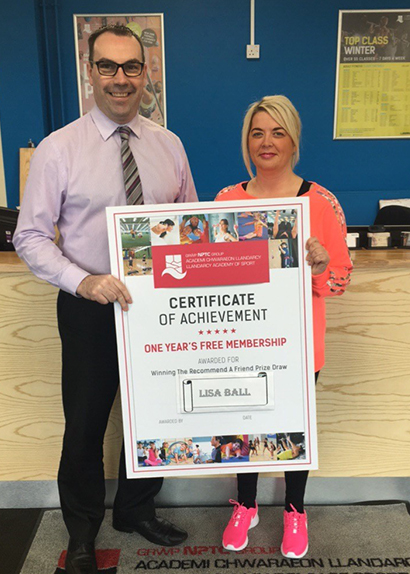 ---
November 'Member of the Month' Announced!

Jacqueline Richards
Congratulations Jacqueline
Jacqueline is one of our most committed class member. She attends every week without fail. Jacqueline likes a challenge while taking part in the classes. On a good week she attends 5 classes a week.
What inspired you to change your lifestyle?
It inspires me when I see people running half marathons and marathons and I think that's something that inspires me. I find it so important to keep fit as you get older.
What kind of training do you do?
I attend Wild Card, Body Blast, BodyAttack and LBT.
How often do you train?
On a good week, I attend classes 5 times a week.
Do you have a goal if so what is it?
My goal at the moment is to run two half marathons next year. The pressure is on now that I have admitted this goal.
Well Done Jacqueline. Enjoy your free month from us!
---
Monthly Challenge Winner Announced!
FEBRUARY CHALLENGE WINNER!
Congratulations to our latest challenge winner Jamie Williams who won our February Skill Mill challenge. Jamie sprinted for 39.0 seconds on the Skill Mill.
Well done from everyone at Llandarcy. Enjoy your prize.
»