Facility Re-Opening - FAQ'S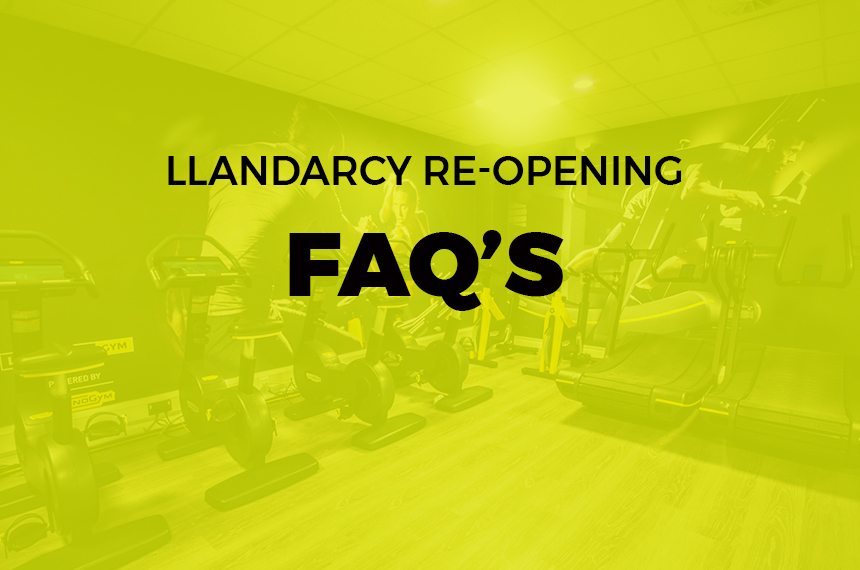 FAQ – ONLINE CLASSES
Will online classes continue when our facility re-opens?
Due to the success of the online classes and the fantastic feedback received we are delighted to announce that our online services both live and pre-recorded will continue when our facilities re-open. At present they will continue as normal through our online channels and further details will be provided in the coming weeks regarding our online services moving forward.
If you have any queries please get in touch on contact@llandarcysport.co.uk or call us on 01639 648680
---
FAQ – BOOK ONLINE
How do I book a class online?
You can book online up to 10 minutes before the start of the class. If you can't make it, you must remember to give 60 minutes notice to cancel, by cancelling online or by phoning the centre. After this time you will not be able to cancel and it will be recorded as a no show.
What if I don't have an online booking account?
Follow the steps below to create an online booking account, enabling you to book classes and gym sessions online:
Visit our online booking site through our website - Click Here
Click Login
Add your email address
Click/tap 'Reset Password'.
You will receive an email with a link to reset your password.
Log back in using your e-mail address and new password
Book your gym or class booking
If you are having any difficulties with this please contact us either by e-mail contact@llandarcysport.co.uk or call us on 01639 648680
---
FAQ – MEMBERSHIP
When will my membership restart if I have Frozen?
Your membership can be used to access centres from our opening date on 15th July 2020.
Your membership and all direct debit payments will be switched back on and begin being collected on your usual direct debit date. Your first payment will be made on 1st September
I have a question about my membership, who do I contact?
Please email you enquiry to contact@llandarcysport.co.uk Please bear with us if response times are a little slow as we are hard at work bringing facilities back and still operating on reduced staffing levels.
I have cancelled my membership, can I re-join ?
We are aware that some members may have cancelled their direct debit with the bank or via Legend. You can re-join by contacting us at contact@llandarcysport.co.uk or call 01639648680
Once you've rejoined, follow our guide to and set up your online booking account, which you can use to book classes and gym sessions.
If I pay by direct debit, when will my payment be debited?
We will be writing to all frozen members by email or post to confirm the details of direct debits re-starting. These will restart from September 1st, with your payment day remaining the same as it was pre-lockdown.
If you are on a long-term freeze for medical reasons, please contact us to keep your membership on freeze.
I am not ready to return to the gym yet, what are my options.
We will be offering all members to continue freezing membership subject to our terms and conditions. Please contact us on contact@llandarcysport.co.uk or 01639648680
I would like to cancel my membership; how do I do this?
We're confident we've made all of the changes necessary to keep you safe in our facilities, but we also understand that for many reasons some members may not wish to return. In the first instance we would recommend extending your freeze (as above) as this will mean you don't need to pay a new joining fee if you decide to come back at a later date.
If you still feel that cancelling is the best option for you, we'll be sad to see you go but you can do so by contacting us at contact@llandarcysport.co.uk as per your membership terms and conditions.
I am over 70, can I still come in?
If you are not shielding at home, you are more than welcome to come and use your local centre. Please visit the online booking login (can we put link here?) to start booking in your gym/classes. Alternatively, you can extend your frozen membership by contacting us at contact@llandarcysport.co.uk or ring 01639 648680
Will all the facilities be open?
As you will be aware Llandarcy Academy of Sport was turned into one of the nightingale hospitals in the fight against COVID-19 we are very proud to have contributed in this way. Although the facility has never been used,work still is ongoing to restore it back to normal.
Therefore temporary gym and class facilities are being made available. There is not a date as yet for the return of all facilities but we are hoping this will be in the near future
---
FAQ – CLEANING
What have you been doing to make it safe?
Whilst in lock-down we have been busy making changes to the way we operate, so that when we reopen you can feel safe, confident and ready to enjoy your visit.
Staff Training and Cleaning Regimes
We have been liaising with suppliers to ensure that the cleaning regime and products we use are in-line with Government recommendations. In addition, our staff are fully informed and trained to follow these new recommendations to ensure sites are cleaned to an excellent standard to keep you safe.
How can I keep myself and others safe?
The best way to keep yourself and other users safe is to follow the guidelines we have put in place, as well as Government hygiene and safety recommendations such as washing your hands regularly and not visiting if you are feeling unwell.
---
FAQ – VISITING THE FACILITIES
What will have changed?
We have introduced a variety of changes to ensure we are COVID-19 safe. This includes one-way routes, all activities being pre-booked only, 1-hour gym slots, hand sanitizer stations and more.
Whilst Llandarcy is being restored from the Nightingale Hospital we will be using two Temporary Facilities:
Gym – will be located in the Track to ensure social distancing
Classes – will be located at Nidum Theatre in Neath College – Dwr Y Felin Road, SA10 7RF
What equipment do I need to bring?
Please note, we will no longer be providing certain types of equipment including:
· Yoga/exercise mats
· Yoga blocks
Please bring your own
Can I fill up my water bottle?
Our water fountains will be unavailable during your visit. Please ensure you bring adequate drinking water with you.
Can I bring a sweat towel to the gym?
At this time, we ask that members do no not bring a sweat towel to use in the gym.
Can I use the changing rooms?
The changing/showering facilities will be closed, so please ensure you arrive ready to exercise.
Can I use the toilets?
Limited toilet facilities will be available for essential use only. To use the toilet, you will need to exit the centre from your activity location and re-enter through reception. You may have to queue to get back into the facility. Please ask staff for detail.
What do I do with my belongings?
Lockers will not be available during your visit. Please do not bring any unnecessary personal belongings and keep anything you bring with you.
If you are using the gym you can bring coats and small bags, but you will need to carry everything with you and place it next to the item of equipment you are using. This is to prevent trip hazards and reduce the risk of cross-contamination. If you are coming to enjoy a class, you will be able to place coats and small valuables (phones, keys) to the side of the room before you begin.